Henry Cisneros
This past weekend, Margaret, Stewart, his wife and myself met with Henry in San Antonio to speak with him about our education foundation,
'Perfect Attendance'
. I was amazed at how professional and well-spoken he was. As we sat-up in a small downtown hotel room and recorded a seamless motivational piece from him aimed at high school students, I couldn't help but think about what he's gone through in politics and his personal life. It was just days after the U.S. Congress had voted to finally drop the 10-year,
$21 million
investigation on him while he headed H.U.D. (housing urban development) for Clinton. Many people think the prolonged inquiry was to hold him back from running for something higher. Thinking about that and hearing him talk about overcoming adversity at all levels, I felt I could take on anything. I hope he interacts with the project more as we move forward this next school year.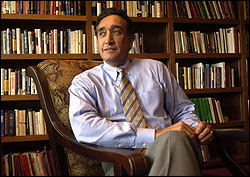 The world definitely needs more Mr. Cisneros'.